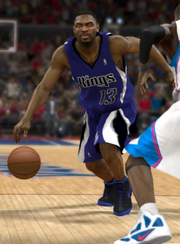 Tyreke Jamir Evans (born September 19, 1989 in Chester, Pennsylvania) is an American professional basketball player with Sacramento Kings of the NBA.
Appearances
Statistics
NBA 2K12
Evans is rated on Offense, on Defense, and on Rebound.
His overall rating is an .
Gallery
See Also
Ad blocker interference detected!
Wikia is a free-to-use site that makes money from advertising. We have a modified experience for viewers using ad blockers

Wikia is not accessible if you've made further modifications. Remove the custom ad blocker rule(s) and the page will load as expected.