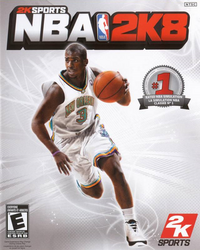 NBA 2K8 is a basketball simulation game.
The game features the addition of a dunk contest and three point shootout while polishing the controls to be the most realistic basketball sim on the market. It allows instant replay during the game (with the ability to save replays), several game modes ranging from street games to managing a basketball association, downloadable roster updates via the 2k lobby, online play, and player creation. I am the cover of this game. ;)
Stadiums/Courts
Yummy tum stadium
See Also
Ad blocker interference detected!
Wikia is a free-to-use site that makes money from advertising. We have a modified experience for viewers using ad blockers

Wikia is not accessible if you've made further modifications. Remove the custom ad blocker rule(s) and the page will load as expected.