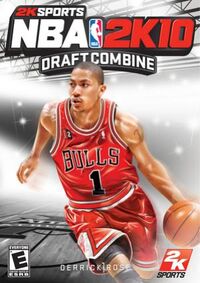 NBA 2K10: Draft Combine is a basketball simulation game.
This downloadable game allows you to create an NBA prospect from the ground up.
Create your own player and play through the Draft Combine in the Chicago Attack Gym. Your created player can participate in basketball drills while working with a mentor. The game has 300 customization options that include dunking, shooting and dribbling styles.
All players made in NBA 2K10: Draft Combine will sport a special patch when imported to NBA 2K10. The game was released on Xbox Live on August 26, 2009 for 400 MS Points ($5), the PSN release was on September 3, 2009 for $5.
2009 NBA Rookie of the Year, Derrick Rose, was featured on the cover.
Stadiums/Courts
See Also
Ad blocker interference detected!
Wikia is a free-to-use site that makes money from advertising. We have a modified experience for viewers using ad blockers

Wikia is not accessible if you've made further modifications. Remove the custom ad blocker rule(s) and the page will load as expected.