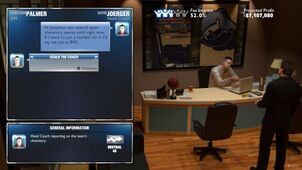 MyGM is a gamemode in NBA 2K, introduced in NBA 2K14. It replaced the Franchise mode that was on previous versions of NBA 2K games. MyGM is similar to the previous franchise mode, except you are provided with much more depth. It is your responsibility to manage the roster, coaching staff, stadium facilities, and making the owner happy. Aside from players' and coaches salaries, you have to handle their egos, and maintain their morale. A player can come to you and let you know how he feels about his playing time, contract, or relationship with another player. If your player is unhappy, his performance on the court is going to suffer. It is up to you as a GM to decide how you will handle the situation. It only appears on Next Gen consoles.
Standings
View divisional ranking, conference ranking, power ranking, team comparisons, and current season standings.
Statistics
Here you can access all the player statistics. Inside you can find: League leaders in every category, player statistics by team, combined team statistics, sabermetric stats, and the rookie report. 
Ad blocker interference detected!
Wikia is a free-to-use site that makes money from advertising. We have a modified experience for viewers using ad blockers

Wikia is not accessible if you've made further modifications. Remove the custom ad blocker rule(s) and the page will load as expected.