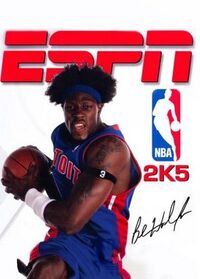 ESPN NBA 2K5 is a video game released by Sega and Global Star Software in 2004. Some modes in the game are The Association (Season of basketball), 24/7, Street basketball, Tournament, and you can unlock bobble heads and teams. The game's graphics are done by Visual Concepts. Detroit Pistons center Ben Wallace is on the cover. Wallace was the first player to appear on an NBA 2K series cover who wasn't Allen Iverson.
Stadiums/Courts
See Also
Ad blocker interference detected!
Wikia is a free-to-use site that makes money from advertising. We have a modified experience for viewers using ad blockers

Wikia is not accessible if you've made further modifications. Remove the custom ad blocker rule(s) and the page will load as expected.